As was the case last year, the McRib is again popping up at other locations around the globe. Most of the time these offering are very much like the offering in the United States, although sometimes takes an interesting twist (Japan's McRib). Today, a fan in New Zealand (thanks Regan!) tipped us off to and provided confirmation of the McRib being back in New Zealand!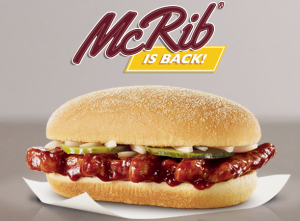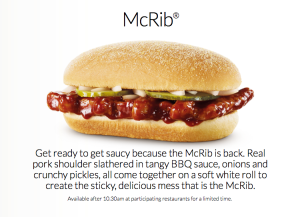 On their Twitter page, you can find some interesting promotional material. Granted, it isn't that unusual for one to spill a lot of sauce if they try to eat a McRib in their car, this video shows a person getting pretty saucy in a dance studio:

Leading up to the release they also had a few teaser videos to get people excited:


This isn't the first time we have watched an interesting video of the McRib's return from this region of the world, you may recall Actress Claudia Black was part of an Australian promotion many years ago:
As always, if you find a McRib, please report it on our website then send us in a photo of your receipt showing purchase so that we may mark your sighting confirmed. Thanks again Regan!