Written by Alan on July 25, 2014 – 9:32 pm -
After hunting a bit on the web, we found that we missed out when Burger Lad reported that for a brief period of time during June 2014 the McRib was being tested at a select group of McDonalds in the UK.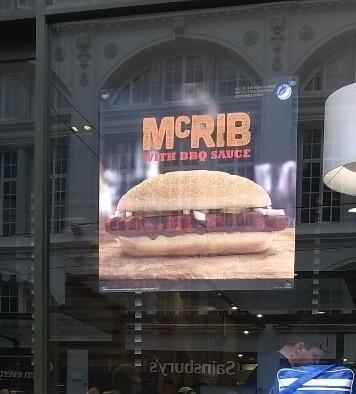 @ThePatrickLambe captured this photo of the 2014 McRib test run.
Based on the comments, it appears that the UK may see a more widespread release of the McRib this coming January! Finally the cries across the UK for the return of the McRib will be answered.
If/when you find a McRib, please mark your sighting at McRibLocator.com and be sure to send us a photo (photos@mcriblocator.com) of your receipt showing the purchase so that we may mark it as confirmed.
Posted in
McRib News
,
McRib Sightings
,
Messages from Alan
|
No Comments »
June 13, 2014 – 11:28 pm
In honor of the World Cup in Brazil, McDonalds Brazil ...
No Comments »
March 24, 2014 – 9:19 pm
While the various McRib clones at gas stations are known, ...
No Comments »