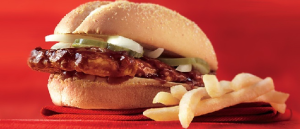 We have just received word that the McRib will again be making an appearance within the United States. While it is still uncertain how many locations will be offering the McRib across the country, we do know that one area that will be offering it is Northeastern Pennsylvania. @McDNEPA tells us that they are planning to bring back the McRib at the start of September and will keep it on the menu until later in the month of October, or as supplies last. Some of their restaurants will offer the McRib starting the last few days of August for fans to start their McRib feasts as soon as possible.
If that wasn't enough good news, @McDNEPA also tells us that they plan to offer the McRib at the same price points as last year, single sandwich at $2.99 (plus tax), Medium Extra Value Meal at $4.99 (plus tax), and will also retain the ever popular add a McRib to ANY Extra Value Meal for only $1 (plus tax) more!
If you find a McRib make sure to report it http://mcriblocator.com/report.html and send us a photo of your receipt (showing location and date purchased as well as your McRib order) to photos@mcriblocator.com . Thank you!