While the last sales of the McRib in the United States were somewhere between February 13th and 15th, that has not resulted in a lack of availability of the McRib globally.

On February 20th I was informed that the McRib has shown up on McDonalds menu's in Spain. I was also informed they will be there through April 16th (thanks @M1Q3). Upon review of the McDonald's site for Spain, I indeed was able to confirm they have them. In the ad on the webpage, they ask readers to run to your nearest restaurant and get one. The map shown is an interesting play on a location map showing where the nearest McDonalds is. Perhaps a nod to a certain locator website?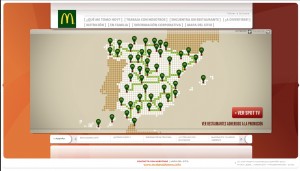 In other related news, a McRib spinoff has been reported in Austria. The McRibster has gathered the headlines from various news sources such as Time http://newsfeed.time.com/2012/03/01/oh-yes-its-real-mcdonalds-austria-introduces-deep-fried-mcrib/. A deep fried McRib patty with bacon and pepper jack cheese does hold an appeal to me, however I can't see it replacing our "original" variety here. This isn't the first spinoff, Japan late last year also offered a different take on the pork sandwich.