Archive for the 'Messages from Alan' Category
Written by Alan on April 20, 2013 – 9:31 am -
As noted on the McDonalds Spain site, the McRib has again returned. This time the McRib is featured as part of their McMenu Easy promotion. From my interpretation of the promotion, this is similar to the Dollar Menu concept here in the United States, however has been expanded to include a select few value meals.
The McRib will remain on the menu in Spain through April 30, having actually started April 2nd.
Thank you James Frewin for reporting your sighting in Spain and tipping us off to the McRib availability!
Posted in
McRib News
,
McRib Sightings
,
Messages from Alan
|
No Comments »
Written by Alan on March 7, 2013 – 8:51 pm -
The McRib's seasonal retirement appears to have returned, we must resort to reflecting back on those great McRibs we had this past season.
The McRib is not the only retiree this season. A law enforcement official on the East Coast received a fitting send-off with a McRib Retirement Cake from The Cake Constructor. Now that is a retirement party nobody is soon to forget!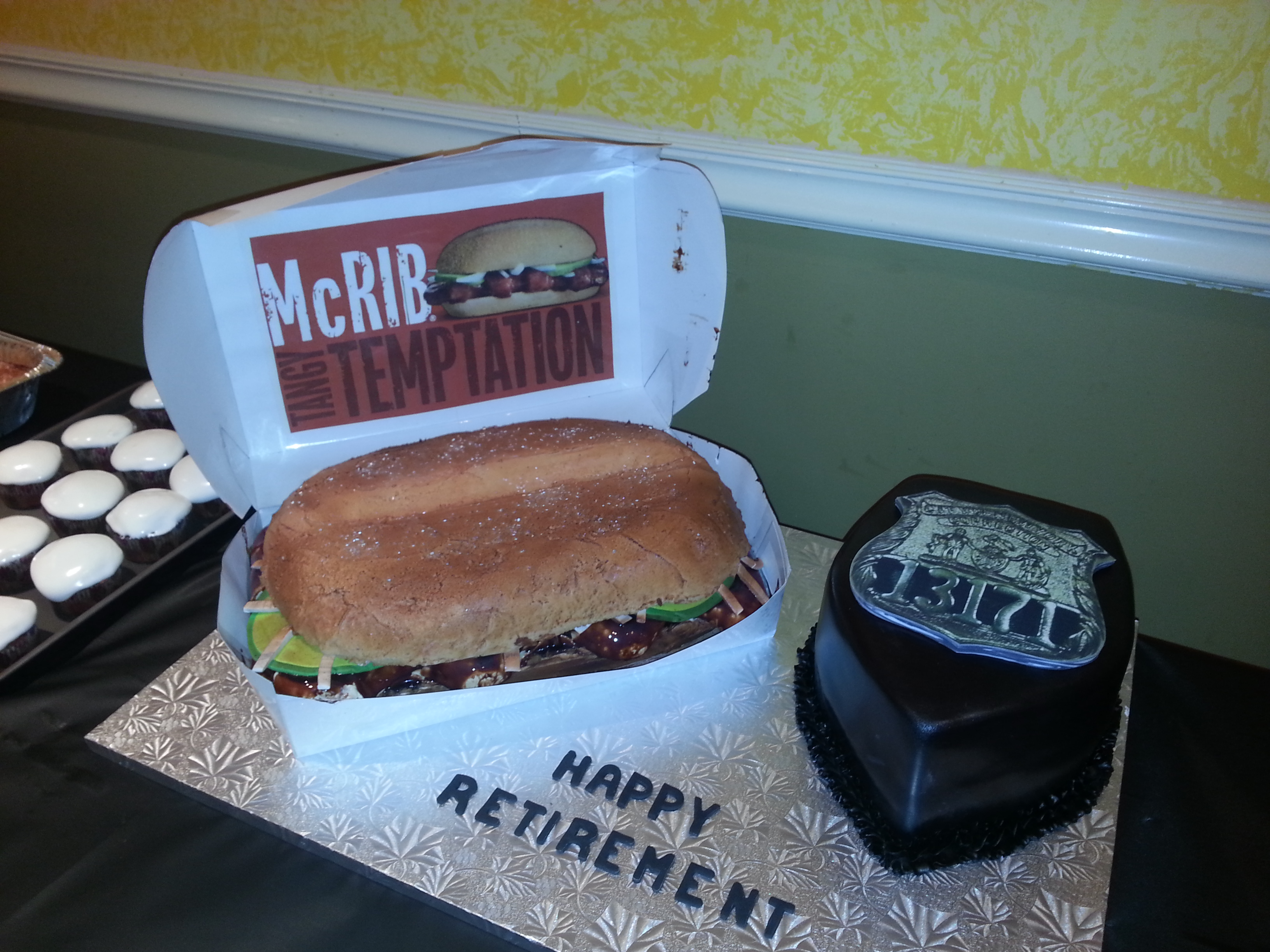 While not as creative of an achievement, Kim and I recently were able to enjoy a meal with two participants that have rarely been spotted together. On Feb. 5, 2012 after several calls to confirm the availability of the McRib, we were able to have the McRib and Shamrock Shake in the same meal. How rare is this? See Season 1 Episode 1 (the Pilot) of Raising Hope (jump to 7:37 into the episode) and listen to what Dana has to say.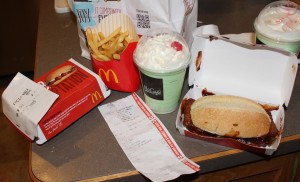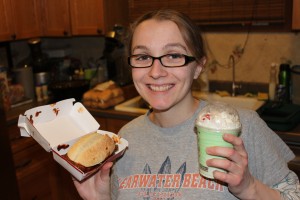 Have you had a unique McRib related event this year? If so, we would love to share it with other McRib fans. Drop us a line with your story (and pictures if you have them).
Posted in
McRib News
,
Messages from Alan
,
Photo
|
No Comments »
Written by Alan on January 12, 2013 – 10:57 pm -
When we last posted, we had made mention of the Survival kits being offered in the New York area. Through the generosity of the @McDNYTriState area McDonalds, we have secured a few of these kits for you, our fans.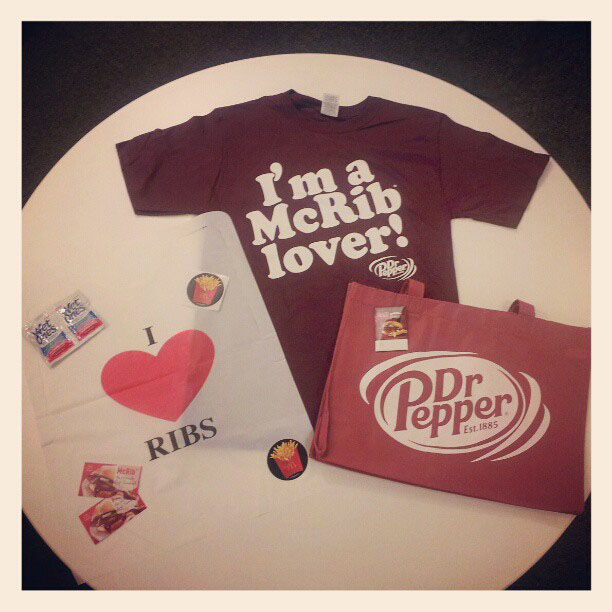 We want to recognize those who have contributed the most to the McRibLocator site, so below is how we plan to distribute these kits. Note that the shirt provided in each of the kits is size Large. Additionally as noted below, the McRib coupons pictured have been replaced with McRib Locator pens.
Survivor Kit Giveaway:
The 3 people with the most points at the end of the week will receive a McRib survival kit. You earn points through the following means:
For every McRib sighting you enter through the website (http://mcriblocator.com), you will receive 1 point in this contest.
For every McRib sighting you enter through the website (http://mcriblocator.com), and provide an image to confirm the sighting you get 2 points (1 point for entering as in option 1 and an addition point for sending in the confirmation photo).
For every McRib email you send with a unique photo of yourself/others dining with you feasting on the McRib you will receive 1 point. Note that these pictures may be shared on the website.
Photos must be submitted to photos@mcriblocator.com. All entries must be received no later than 6am Central Time January 20.
Coupon Giveaway:
These kits originally contain 2 coupons good for a free McRib each in the @McDNYTriState area. We have replaced  these with 2 McRib Locator pens as not all people will be able to use these coupons. We will be giving out 1 coupon per day in this contest to the entry with the most points on the given day that live in @McDNYTriState area. The areas the coupon is good for are: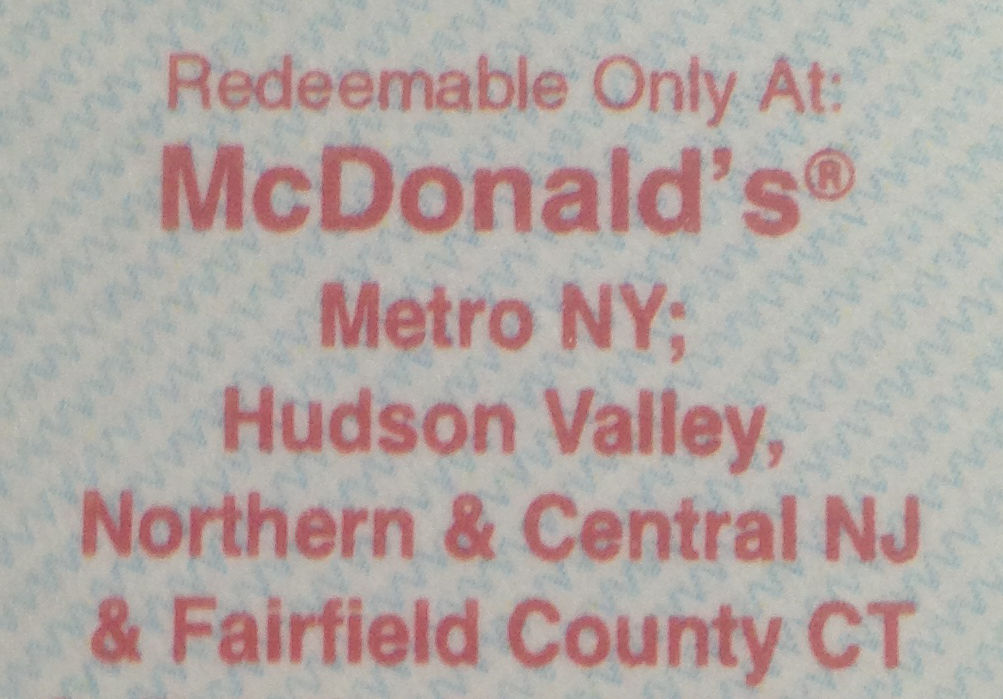 Restrictions:
Contest begins January 12, 2013.
Contest ends January 20, 2013 @ 6am Central Time.
Points are based on the email used for the sighting/photo submission. All entries must be submitted with the same email per person to receive credit for the person's entries.
Only one winner for the Survival Kit per mailing address.
The daily prize can only be won once per mailing address for the duration of this contest..
In the event of a tie which would result in more than 3 winners, we will randomly select the winner from those that are in the possible winners.
If you have any questions, feel free to comment on this post, or send us an email contact@mcriblocator.com.
Posted in
McRib Events
,
McRib News
,
Messages from Alan
|
No Comments »